Tim Kennedy &nbsp &nbsp &nbsp &nbsp
Woodturning and other hand crafted items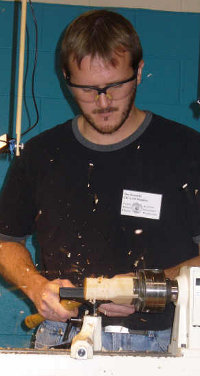 January 15-17, 2016 - The Woodworking Show, Indiana State Fairgrounds, Blue ribbon Pavilion. I will be in the woodturning booth provided by the Central Indiana Chapter of the American Association of Woodturners (CICAAW). I will be present throughout the weekend doing demonstrations along with fellow club members. (We will not be selling merchandise at this show). See you there!
April 9 & 10, 2016 - Indiana Artisan Marketplace, Expo Hall, Indiana State Fairgrounds. Showcasing the creations of Indiana's best artists and artisans, Approximately 200 artisans from Indiana will showcase art and food selected as being among the best in Indiana. I will have a retail booth with my woodturned art.
October 14th-23th, 2016 - Covered Bridge Festival, Bridgeton, Indiana. I will be located just outside the back doors of Collum's General Store. Along with all my latest woodturned art, I will have my mini lathe set up and I will be doing demonstrations throughout the week.
ALL CONTENT ON THIS SITE IS OWNED BY Tim Kennedy.
No unautherized use of this content is permitted.